Apple WWDC 2023: 10+ new Announcements, including Apple Vision Pro to iOS 17, MacBook Air and more
The highly anticipated Worldwide Developers Conference of this year lived up to expectations, delivering an array of exciting announcements. During the keynote presentation, Apple unveiled its long-awaited mixed reality headset, officially confirming numerous speculations that had surfaced in recent months.
While Apple's Vision Pro headset garnered the most attention, the company also made noteworthy revelations in the realms of hardware and software. Here are the significant highlights from the event, encompassing all the major news:
MacPro, Mac Studio and M2 Ultra
Apple has revealed exciting upgrades for both the Mac Studio and Mac Pro, powered by their new Apple Silicon technology. At WWDC, the company announced that the latest versions of these desktop devices will be equipped with the impressive M2 Ultra chip. This advanced component boasts a remarkable up to 24-core CPU and up to 76-core GPU, ensuring exceptional performance.
The Mac Studio, renowned as a "performance powerhouse" by Apple, will offer users a choice between the M2 Max or M2 Ultra chip options. On the other hand, the Mac Pro will exclusively feature the M2 Ultra chip, accompanied by the option for PCIe expansion. The starting price for the Mac Studio is $1,999, while the Mac Pro begins at $6,999. These upgrades signify Apple's commitment to delivering powerful and cutting-edge desktop experiences.
Features
The Ultra variant of the M2 chip represents the fusion of two M1 Max dies into a unified package. This integration offers enhanced capabilities and performance compared to its predecessor.
Crafted utilizing advanced 5 nm technology, the M2 chip boasts an impressive architecture comprising a staggering 134 billion transistors. It offers remarkable specifications, including 24 CPU cores, up to 76 GPU cores (with an alternative 60-core option), and a robust 32-core Neural Engine. The CPU configuration consists of 16 cutting-edge high-performance cores, complemented by eight high-efficiency cores to optimize power consumption and performance efficiency.
An important advancement with the M2 Ultra chip is its support for a substantial amount of unified memory, allowing for up to 192 GB. This impressive memory capacity is accompanied by a robust 800 GB of memory bandwidth, further enhancing the chip's performance capabilities.
Vision Pro AR headset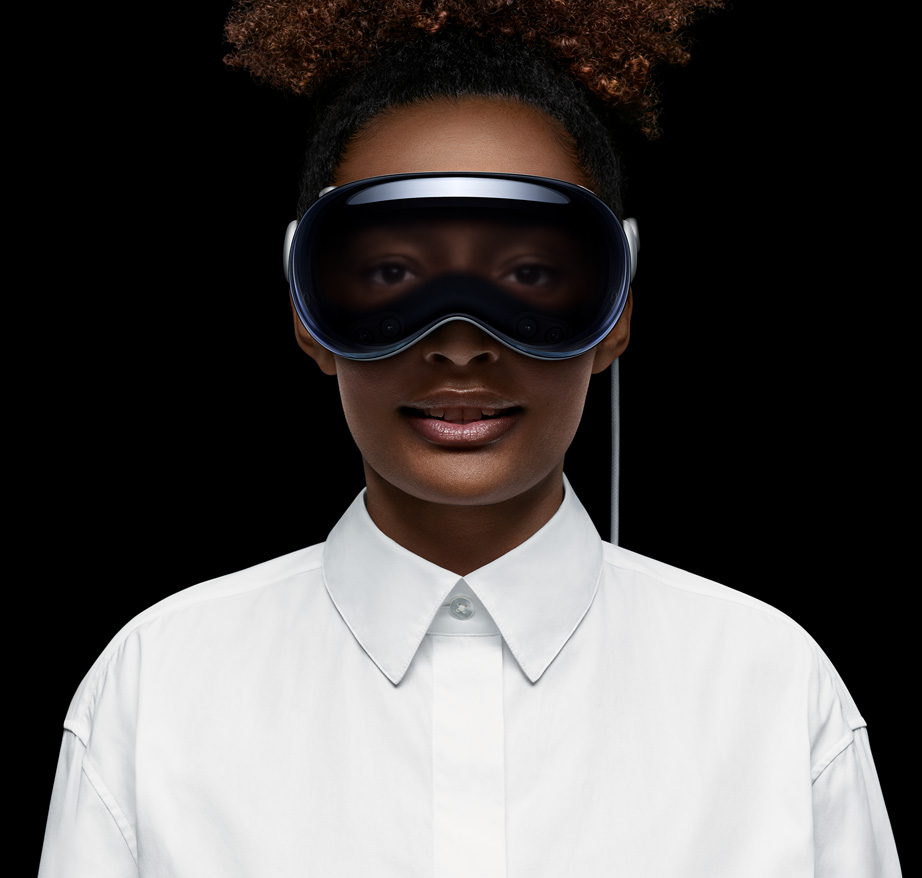 Apple's forthcoming Vision Pro headset will operate on an entirely fresh operating system called visionOS. This innovative platform enables the headset to overlay virtual applications and icons seamlessly onto the real world. Users can navigate through the system using eye tracking, hand gestures, and voice commands, opening up a new dimension of interaction.
During the WWDC showcase, Apple demonstrated the diverse capabilities of the Vision Pro headset. Users will have the ability to engage with Apple's native apps, including Safari, FaceTime, Photos, Music, and more. Furthermore, the headset can serve as an external display for Mac devices, provide access to Apple Arcade games, facilitate movie-watching experiences, and even enable video capture functionality. The Vision Pro headset promises to revolutionize the way users engage with digital content and their surrounding environment.
During the announcement, Disney CEO Bob Iger revealed that Disney+ will be accessible on Apple's upcoming Vision Pro headset right from its launch. This means that users of the Vision Pro will have the convenience of enjoying Disney's extensive content library and streaming services directly on the innovative headset. The collaboration between Disney and Apple promises to enhance the immersive entertainment experience for users, bringing together the rich offerings of Disney+ and the cutting-edge capabilities of the Vision Pro headset.
Apple TV
Apple is introducing a new feature that will enable FaceTime usage on Apple TV. This exciting capability utilizes the Continuity Camera feature of the iPhone, enabling users to utilize their iPhone as a webcam substitute while engaging in FaceTime calls on their TV. With this functionality, individuals can seamlessly see and interact with others during meetings and conversations conducted on their television screens. The innovative Center Stage feature ensures that users remain in the frame, enhancing the overall FaceTime experience on Apple TV.
visionOS
Apple has introduced its upcoming Vision Pro headset, which will operate on a revolutionary operating system known as visionOS. This cutting-edge platform enables seamless integration of virtual applications and icons onto the real world, granting users the ability to navigate through the system using eye tracking, hand gestures, and voice commands.
The remarkable capabilities of the Vision Pro headset were showcased during WWDC, revealing its compatibility with a range of Apple's native apps. Users will enjoy interacting with popular applications such as Safari, FaceTime, Photos, Music, and more, all within the immersive environment of the Vision Pro headset. Moreover, the device can serve as an external display for Mac devices, allowing users to play Apple Arcade games, watch movies, and even capture videos, providing a comprehensive entertainment experience. The Vision Pro headset from Apple opens up exciting possibilities for seamless digital interaction and immersive entertainment.
MacBook Air: 15 inches
Alongside the Vision Pro headset, Apple unveiled an impressive addition to its MacBook Air lineup: a new model featuring a substantial 15.3-inch display. This represents a significant upgrade, as the MacBook Air series has traditionally offered 13-inch displays.
Positioned as the "world's thinnest" 15-inch laptop by Apple, this new MacBook Air weighs just over three pounds, showcasing the company's commitment to lightweight portability. Notably, the device boasts up to 18 hours of battery life, ensuring extended usage without the need for frequent charging. With a brightness of 500 nits and a 1080p webcam, the MacBook Air delivers an enhanced visual experience.
Priced at $1,299, the new MacBook Air is now available for order, and it is set to hit the market next week, providing users with the opportunity to enjoy its impressive features and capabilities.
MacOS 14 Sonoma
Apple has chosen Sonoma, another town in California, as the namesake for its latest desktop operating system, macOS 14.
Among the notable updates in macOS 14 is the introduction of interactive widgets, allowing users to engage with dynamic and customizable elements directly on their desktop. Additionally, a game mode has been implemented to minimize distractions while playing silicon-based games, catering to the growing selection of titles available.
In recognition of the prevalence of teleconferencing, macOS 14 features a new overlay feature that isolates the speaker and presents them against a dynamic background, removing any potential visual distractions. Furthermore, users can enjoy new visual effects like fireworks during these virtual meetings, adding an element of fun and liveliness to the experience.
iPhone
Apple is introducing some exciting updates for our beloved handheld device, the iPhone, which is often used for making calls and much more.
The Messages app, one of the most frequently used apps on the iPhone, is undergoing a major overhaul. Notable changes include the ability to view transcriptions of voice messages and an interface update that simplifies iMessage app access. A new safety-oriented feature called "Check In" allows iPhone users to notify their friends and family when they have arrived home safely or share their current location. Additionally, the search function has been enhanced to provide a faster and more convenient experience, and users can now view transcriptions of voice messages.
If you're a food enthusiast, Apple has a treat for you. With the new Visual Look Up feature, your iPhone transforms into a recipe finder. By simply taking a photo, users can search for recipes directly from the image.
In the spirit of sharing and collaboration, Apple introduces new SharePlay features for CarPlay. When iPhone users connect to CarPlay, passengers can also connect their iPhones to play music, promoting an enjoyable and interactive experience for everyone in the vehicle.
iOS 17
During its announcement, Apple introduced a range of exciting features for iOS 17, including a brand-new journaling app. One notable addition is the StandBy feature, which transforms the iPhone's screen into a smart home-like display when placed horizontally while charging. This enables users to view essential information such as the time and date in a convenient manner.
iOS 17 also brings transcription capabilities for voice messages, making it easier to read and understand them. A safety-focused feature called Check In allows users to share their location with someone they are meeting, ensuring peace of mind. Moreover, the NameDrop feature simplifies the process of sharing contact information, allowing users to easily share their email address or phone number with other iPhone users. Furthermore, Apple has streamlined its virtual assistant, removing the "Hey" portion of the "Hey, Siri" trigger phrase for a more seamless user experience.
AirPods
To enhance the user experience, significant updates have been introduced to these gadgets. A notable addition is the Adaptive Audio feature, which seamlessly combines active noise cancellation mode with transparency mode. This allows users to enjoy the benefits of noise cancellation while remaining aware of their surroundings, making it safer to navigate busy streets. Apple has also focused on improving the automatic switching feature, aiming to enhance its functionality and provide users with a smoother and more seamless experience. These updates demonstrate Apple's commitment to continuously improving its products for optimal user satisfaction.
iPadOS 17
Apple's latest iteration of iPadOS is named iPadOS 17 and it brings several enhancements to the iPad experience. Notable upgrades include improved widgets with enhanced live interactions, customizable Home Screen options similar to the iPhone, and the introduction of new native apps like the Health app and an enhanced Notes app.
One of the exciting additions is the Health app, which will now be available on the iPad as part of iPadOS 17. Users can now access their health data, including electrocardiogram results, on the larger iPad screen. Privacy is prioritized as health data is securely synced across devices, including the iPad, iPhone, Apple Watch, and compatible third-party apps and devices, providing a comprehensive view of one's health information. Developers will also have the opportunity to leverage HealthKit on the iPad, enabling the creation of innovative health and fitness experiences for the devices.
With iPadOS 17, users will enjoy a spacious display for viewing health metrics, prescriptions, lab tests, and more, enhancing the accessibility and usability of health-related information. Furthermore, Apple has placed a focus on mental health, introducing new features for the Apple Watch and iPhone in this domain.
In addition to health-related updates, Apple is introducing Live Collaboration, a feature that enhances PDF workflows. Leveraging machine learning technology, iPadOS 17 can identify fields in a PDF, facilitating quick form filling—a significant benefit for those who may not have easy access to tools like Adobe Acrobat. This functionality extends to scanned documents, allowing users to seamlessly work with photos of documents on their iPads.
With these advancements, Apple is elevating the iPad experience, empowering users to be more productive, informed, and engaged with their health and documents.
watchOS 10
The prominence of widgets was evident at this year's WWDC, as demonstrated by the aforementioned announcements. Apple has extended their reach to watchOS 10, enabling users to conveniently browse through widgets by simply turning the digital crown on their Apple Watch. This provides an at-a-glance view of various information right on the wrist.
Furthermore, Apple is introducing a range of new watch faces, allowing users to personalize their Apple Watch experience even further. Additionally, the latest watchOS brings the ability to measure the duration of time spent in daylight, providing valuable insights into one's exposure to natural light. For cycling enthusiasts, dedicated features have been added to enhance the cycling experience with the Apple Watch. Furthermore, hikers will appreciate the inclusion of trailhead information, offering valuable guidance and assistance during outdoor adventures.
These updates showcase Apple's commitment to continuously improving the functionality and versatility of their wearable devices, providing users with a seamless and enriching experience right from their wrists.